HU Qiang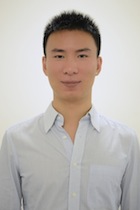 Handphone: +65-86930506
Email: [email protected]
Experiences
April 2015 - Present: Associate, DBS Bank Ltd

Experiencing Full Software Development Life Cycle: requirement gathering, effort estimation, development & testing, and production deployment.
Designing and implemented MicroService: Single Sign On service, backend service API interaction with Spring Boot and various Oracle/Redis/Mongo/MariaDB persistences, and unified UI integrations with RequireJS/Angular(2)/Vue.
Designing and implementing Feature Manager to manage the Microservices: inter service communications, feature toggling and request logging.
Administrating a RedHat Dev server, setup and maintain GitLab and Mattermost for collaborations among developers and users.

March 2014 - April 2015: Research Engineer at IDMI, NUS

Worked on ReadPeer: Drupal backed API development, and web UI development.
Education
National University of Singapore 2010 August – 2014 February

Bachelor of Computing (Computer Science) 2nd Class Upper (Hons)
Certification
Exposures
7 January 2013 - 28 June 2013: Intern at UBS

Developed HP QuickTest Professional(QTP) testing library for a new product.

August 2012 - November 2013: Undergraduate Student Researcher IDMI, NUS

Designed and implemented a real-time augmented reality Android application based on computer vision

August 2010 - May 2012: IT member, Chief Administrator at EusoffWorks
8th-27th August 2010: Volunteer for the Singapore Youth Olympic Games as NOC (National Olympic Committee) Assistant attached to Australia NOC
Seven-year in Software Engineering practices:

Good knowledge about software life cycle. Pleased to apply Software Engineering principles in all projects. Actively involve in project management.
Projects
Publications
Qiang Hu, Qi Liu, Xiaoli Wang, Anthony K.H. Tung, Shubham Goyal, and Jisong Yang. DocRicher: An Automatic Annotation System for Text Documents using Social Media, SIGMOD, 2015 PDF