胡 强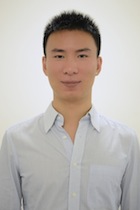 电话: +65-86930506
邮箱: [email protected]
经验
2015年4月 - 现在: 业务主任, 星展银行

主导Java 6 到 Java 8 升级, 以及网站服务器由Weblogic到嵌入式Tomcat的迁移.
全栈程序开发: 用户需求, 方案设计, 资源报表, 开发测试, 部署上线.
设计开发微服务框架: 单一登录服务; 后台API 服务 基于Spring Boot和多种数据库: Oracle/Redis/Mongo/MariaDB; 前段用户界面开发整合, 采用RequireJS/Angular(2)/Vue2.
设计开发了FeatureManager来管理微服务: 微服务间通讯, 线上功能版本切换, 以及统一日志记录.
管理RedHat开发服务器, 部署维护GitLab和Mattermost用于代码管理和团队交流; 主导代码管理服务由CSV到Git的迁移和开发流程.

2014年4月 - 2015年4月: 研究工程师 新加坡国立大学
教育
新加坡国立大学, 计算机学院, 软件工程专业 2010年8月 – 2014年2月:

二等上荣誉学位: Bachelor of Computing (Computer Science) 2nd Class Upper (Hons)
证书
其他经历
7 January 2013 - 28 June 2013: Intern at UBS

Developed HP QuickTest Professional(QTP) testing library for a new product.

August 2012 - November 2013: Undergraduate Student Researcher IDMI, NUS

Designed and implemented a real-time augmented reality Android application based on computer vision

August 2010 - May 2012: IT member, Chief Administrator at EusoffWorks
8th-27th August 2010: Volunteer for the Singapore Youth Olympic Games as NOC (National Olympic Committee) Assistant attached to Australia NOC
Seven-year in Software Engineering practices:

Good knowledge about software life cycle. Pleased to apply Software Engineering principles in all projects. Actively involve in project management.
项目
论文
Qiang Hu, Qi Liu, Xiaoli Wang, Anthony K.H. Tung, Shubham Goyal, and Jisong Yang. DocRicher: An Automatic Annotation System for Text Documents using Social Media, SIGMOD, 2015 PDF